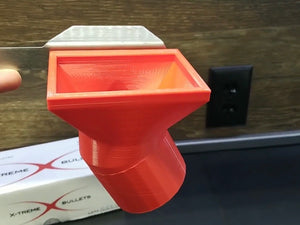 Run a 2.5" hose off the edge or put a larger Akro Bin underneath. 
2.5" hose can be purchased here: https://rangepanda.com/products/funnel-output-hose-and-clamp
Output Hose and Bin not included. 
This does NOT work with the Inline Bin Mount. Only the Factory Silver Bin Mount. We are talking about the lip that holds the akro bin. NOT the mount the press bolts too.
We do not recommend a straight drop into the container.